---
SomeoneIsMissing.com
has been live for -

For comments or questions?
E-mail the

---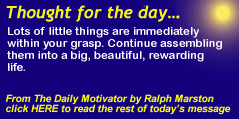 Someone Is Missing -
If someone you know comes up missing...
This website will supply you with the following;

A web address to use immediately

Web space, and our abilities for as long as you need

Unlimited bandwidth resources for as long as you need

Enough resources to handle press and media exposure.

Template web pages published with the information you give us

Instant internet exposure, with all of my resources possible

To be there for you when others fade away

If someone you love is missing, and the police and media know it, I'll help you let the whole world know it too. 100% FREE. You Have To Do Nothing But Supply Us The Information.

Mission Statement
To provide instant internet exposure for missing persons of any age, race or religion, worldwide. With our main objective of becoming a household name so that perpetrators will think twice before acting. They'll know we're here waiting and their movements will be limited.
| | | |
| --- | --- | --- |
| Jennifer Kesse | Luke Durbin | Trevor Morse |

email this page to everyone you know in one click - click here
"If you don't have recent upper body photos of everyone in your immediate family, please stop what your doing, gather everyone together and one by one, take their picture from the chest up. Once you've finished and developed the film, place the photos in plastic bag for safe keeping, make sure to do this yearly. It's that important."

A free listing website that you can do on your own in minutes.


Keith A. Johnson Jr.
Missing Since October 19th, 2012
Bell Ridge, Missouri

Age: 21
Height: 5' 9"
Hair Color: Black
Eye Color: Brown
Weight: 160 lbs

Keith A. Johnson Jr. left his home on October 19, 2011, and has never returned. His family has had no contact with him. He was last seen wearing a
black hoodie, blue jeans, and lime green and black Air Max shoes.

If you have any information please contact -

Bel Ridge Mo Police Department
1-314-429-2030

Missouri State Highway Patrol
Missing Persons Clearinghouse
1-800-877-3452

Tamela "Nikki" Wells
Missing Since August 6th, 2012
Detroit, Michigan

Age: 33
Height: 5' 4"
Hair Color: Brown
Eye Color: Brown
Weight: 150 lbs

Tamela "Nikki" Wells has a scar on forehead and chin and was last seen driving a 2001 White Grand Prix with a Black front Bumper. Nikki is a loving mother of two children ages 17 and 6. She was last seen leaving her home on West side of Detroit around 9:00 P.M. August 6th. Her car was found 3 days later, abandoned in a neighborhood on East side of Detroit. There has been no cell phone or bank activity since her missing. She is a kind, caring mother who loves her children and family. She was last known to be wearing Micro Braids in her hair. We just want to bring her home safely...if you have any information please contact -

Detroit Police 8th Precinct.
Detective/Supervisor Roy Cox at: 313-363-1847
Missing Persons Case # 1208090234.1

Matthew Matt Lein
Missing Since July 23rd, 2012
West Boylston, Massachusetts

Age: 33
Height: 6ft
Hair Color: Black
Eye Color: Brown
Weight: 210 lbs

Matt Lein has a Dragon & Spider tattoo on left shoulder and a tattoo of the name "Chase" on his right forearm.

Matthew was last Seen on July 23, 2012 in West Boylston, MA. Matt is a resident of Worcester, MA where he lives with his wife and young son. He disappeared after an argument without any indication as to where he was going.

Matt has always been very outdoorsy, resourceful, and found peace in nature. We don't believe he has his glasses, his ID is expired, no credit card activity, and cell phone is either turned off or has no battery left. No leads and all possibilities are still open. He is a Beloved Husband, Father, Son, Brother, Grandson, Nephew, Cousin, and Friend and is sorely missed - Please help us bring him home safely!

If you have any information concerning his whereabouts, please contact -


Star City Police - 304-599-3550
Chief Vic Probst

Shaun Thornhill
Missing Since January 23rd, 2012
St. Francisville, LA

Age: 42
Height: 5' 10"
Hair Color: Black
Eye Color: Blue
Weight: 180 lbs

Shaun Thornhill, age 42 was last seen in St. Francisville, Louisiana on Monday, January 23, 2012.

His white GMC pickup truck was later found on Kingston Road south of Natchez, Mississippi. The vehicle has a sticker with the numbers 798 on the front of it which represents Shaun's local pipe fitter's union.

Shaun has a tattoo on his right upper arm of a sun with the numbers 798 in the middle of it as well as, a scar above his left eye. Shaun is 5'10" tall and weighs approximately 180lbs and has black hair and blue eyes.

If you have seen Shaun, please contact -

Randy Metz
West Feliciana Parish SO
225-635-3241

Shana Carter
Missing Since December 4th, 2010
Grimsby Ontario Canada

Age: 25 at disappearance
Height: 5' 7"
Hair Color: Brown
Eye Color: Brown
Weight: 140 lbs

Shana was wearing a black-hooded track suit, a black coat and black running shoes. Shana is 5'7" tall, 140 pounds and mixed race with black hair and brown eyes. She has a tattoo on her wrist that says, "Leroy"

Niagara Regional Police are offering a $25,000 reward for clues into the whereabouts of Carter, who vanished from her home on Arrowhead Lane in Grimsby on Dec. 4, 2010 when she left her home on foot.. Police fear foul play and detectives hope the reward will buy them some new leads.

Police are offering the money for information leading to the arrest and conviction of whoever is responsible for Shana's disappearance. They believe the circumstances of her disappearance are very suspicious and it continues to be actively investigated.

Police ask anyone with information to contact Det. Sgt. Paul Thibert or Det. Sgt. Dave Masotti at 905-688-4111, ext. 4200, or Crime Stoppers at 1-800-222-TIPS.

Brittney Nicole Wood
Missing Since May 30th, 2012
Tillmans Corners, Al

Age: 19
Height: 5' 1"
Hair Color: Dark Blonde
Eye Color: Blue
Weight: 105 lbs

Brittney has a tattoo on L. leg "Payton" surrounded by butterflies.

Wearing Clothes: Blue Jean shorts, Blue tank Top, White flip-flops, carrying a pink or Teal blue tote bag.
Has pierced lip.

If you have any information please contact -

Mobile Alabama Police
251 208-7211

Barbara Ann Hilton
Missing Since August 5th, 1972
Mattoon, Illinois

Age: 23
Height: 5' 2"
Hair Color: Long Brown
Eye Color: Blue
Weight: 115 lbs

Barbara was last seen in the company of her then boyfriend, Jimmie E. Washington of Decatur Illinois at approximately 1 AM on the morning of August 5th, 1972. Her vehicle, a 1969 greeenish blue Chevy Nova was found abandoned a few hours later north of her residence at a country crossroad. Mr. Washington has retained an attorney and is no longer cooperating with police after his initial interview. Mr. Washington has refused a polygraph pertaining to this case. Anyone with any information is urged to contact -

Investigator Ron Kilman
Effingham County States Attorneys Office
217-342-8447

Korey Kauffman
Missing Since March 29th, 2012
Turlock, California

Age: 26
Height: 5' 11"
Hair Color: Blonde
Eye Color: Blue
Weight: 160 lbs

The day before Korey came up missing a man had threatened his life, they had had some sort of disagreement and the man said when i catch up to you I'll cut you from ear to ear. The next day Korey left home went to a friends but left there telling his friend he would be right back. No one has seen him since. When Korey disappeared he was wearing a white t-shirt, blue jeans and brown lace up work boots.

This is not a normal thing for Korey because he doesn't just take off with no word to anyone. He wouldn't do to his parents and he knows how they worry about him. The day the man threatened him he had tried to run Korey over with his car and that's when he yelled at him and said "when I catch you I'll cut you from ear to ear". If you have any information at all, please contact -

Contact Deputy Kenneth Darringer
209-529-7038 Case No S12-10194

Jose Gonzales Jr
Missing Since February 27th, 2012
Odessa, Texas

Age: 41
Height: 5' 11"
Hair Color: Black
Eye Color: Brown
Weight: 150 lbs

Jose has a Bulldog tattoo on his left shoulder and is of medium to muscular build.

He left his mother's home in Odessa, TX on Sunday, February 26, 2012 and has not been seen since. His truck was later found abandoned on 8th st and west loop 338 in Odessa. His belongings were still in the truck and no one has heard or seen him. Jose's family isn't that sure about what actually happened. That is all that is known at the moment, if you can help, please contact -

Odessa Police Department - 432-335-4961 or Andrews Police Department - 432-523-5675

Roger Dan Sheckells, JR.
Missing Since 2009
Burbank, California

Age: 65
Height: 5' 7"
Hair Color: Dark Brown and Graying
Eye Color: Brown
Weight: 160 lbs

Our family lost touch with Roger more than 3 years ago. The Officer located a person Roger had done business with, and the person said as of early 2009 Roger was still living in Burbank but assumed to be homeless. If anyone knows Roger, or has known of his recent whereabouts, I'd appreciate if you could call the number below and let them know. Thank You.

Officer Derek Green
Burbank California Police Dept.
818-238-3243

Media Link - WBIR.com

Facebook Group -
Help Find Vicky Burross

Vicky Burross
Missing Since January 8th, 2012
Strawberry Plains, Tennessee

Age: 46
Height: 5' 8"
Hair Color: Black
Eye Color: Brown
Weight: 240 lbs

Vicky dropped her son off at her parents home late Sunday night, January 8, 2012. No one has seen or heard from her since. She has not shown up for work, contacted any family or friends or returned to pick up her son. Her Ford Ranger pickup was found in Knoxville, TN on Tuesday, January 10, 2012 but there was no sign of Vicky. Please contact the police if you have any information at all.

Jefferson County TN Sheriff's Department
865-471-6000
Detective Moyer

Kenneth Buchanan
Missing Since October 26th, 2011
Forest Park, Georgia

Age: 30
Height: 6'
Hair Color: Brown
Eye Color: Blue
Weight: 200 lbs

Forest Park police are looking for a man, who was reported missing by his family, Tuesday.

Police Detective Jessica Raley said Kenneth Benjamin Buchanan, 30, was last seen Wednesday, Oct. 26, at USA Trucks, on Cash Memorial Boulevard in Forest Park.

Buchanan is a white male, about 6-feet tall, and weighing about 200 pounds. He has brown hair, a short, scruffy beard, and blue eyes. He has poor vision and usually wears glasses. He has a tattoo on his right shoulder, of the Rebel flag and the word "Peterbilt."

He may also limp because of an ankle injury.

If you have any information about Kenneth
please call -

Crime Tip Line at (404) 608-2388,
Det. Jessica Raley at (404) 608-2366, ext. 711,
Forest park Police (404) 366-4141

$50,000 REWARD

Gilbert Paul Caravallo
Missing Since October 6th, 2004
Pearl City, Hawaii

Age: 35 at time of disappearance
Height: 6'
Hair Color: Black
Eye Color: Brown
Weight: 220 lbs

Family members are asking for help in finding a Pearl City man who disappeared seven years ago.
They are now offering a $50,000 Reward.

Gilbert Caravallo's mother and sister placed flowers and a card at the gate of the entrance to the trail above Royal Summit in Aiea. It's something they've done every year. On October 6, 2004, Gilbert and another man were seen about to go hiking on the trail. No one has seen or heard from him since.

"When something like this happens, you just wonder how can it happen? We just really want to make sense of it, it's been a nightmare," said sister, Jonette Caravallo.

Family members say the man with Gilbert was someone who they thought was a good friend. But Jonette says he first denied he was with Gilbert.

Please click through to read the rest of this article -
http://www.khon2.com/

Point of contact for this case would be Gilbert's website - http://FindGilbert.com

Morgan Johnson
Missing Since May 18th, 2011
Plainfield, Indiana

Age: 27
Height: 5' 8"
Hair Color: Black
Eye Color: Brown
Weight: 155 lbs

Morgan Johnson was last seen on May 18th at the Value Place Hotel in Plainfield, IN. His hotel was left with most of his belongings in it, his voicemail on his phone is full and goes straight to voicemail when you call him, and he has not been at work since.
He disappeared after the death of his grandfather, whom he had a close relationship with, and was not present at the funeral.

If you've seen him or have any information as to where Morgan may be, please contact -

Sgt. Brian Fowler
Plainfield Police Department
317-839-8700

http://bringrachelhome.blogspot.com

http://myspace.com/
helpfindrachelconger

Rachel Conger
Birthdate: 10/11/77
Date Last Seen: 03/13/08
Age when missing: 30
Age now: 33
Hair: Blonde
Eyes: Green
(sometimes wore blue contacts)
Race: Caucasian
Height: 5'2"
Weight: 128 lbs.
Clothing: Was last seen wearing burgundy tank top with pink lettering and black sweatpants. (This is what her daughter saw her wearing the night before)
Tattoos: Butterfly on inside of right ankle; "Mia Marie" and paw print on outside of right ankle; "Solly Shai" and paw print on inside of left ankle; "Lynnia Lane" and paw print on outside of left ankle; Ladybug on top of left foot; Butterfly on a vine on her back; Amber Christine on inside left wrist
Piercings: Nose, tongue
NAMUS Case#: 5106
Circumstances:

Last seen 03/13/08 in a gray Ford F-150 with her estranged husband. A cell phone tower in the Paris Landing area has a recorded call coming in to Rachel's phone at 9:30am with the husband angrily answering the call. The husband was then seen at 10:15am at his Paris, TN home twenty miles from the 9:30 am Cell Tower location. Rachel's husband was found deceased on 3/16/08 in a wooded area about 500 feet from where LE recovered the gray Ford F-150 and within sight of his home, as a result of a self inflicted gunshot wound. No one has seen or heard from Rachel. Law enforcement presumes Mrs. Conger to be a victim of murder-suicide.

Police Information:

Henry County Sheriff's Department
P.O. Box 639
210 Forrest Heights Rd.
Paris, TN 38242
731-642-1672
investhcso@charterinternet.com
http://www.henryco.com/

Trevor Morse
Missing Since May 6th, 2007
Las Vegas, Nevada

age: 30
height: 5' 10"
Hair Color: Brown
Eye Color: Blue
Weight: 165 lbs.

- click here for more information.....

On Saturday May 5, 2007 Trevor Morse visited with close friends at their house. He later met other friends at a club for a couple beers and then retired home around midnight. The afternoon of May 6, 2007 a call was made from his cell phone to a taxi service; with the taxi supposedly picking him up and then dropping that person off in West Las Vegas at a store near the desert and mountains. No-one has seen or heard from him since; not family, not friends nor his employer. If you have any information about Trevor's disappearance, please contact -

Police Details -
Las Vegas Metro
Police Department
1-702-828-5678


A free listing website that you can do on your own in minutes,
Click The Banner for PeopleLookingForPeople.com

Click the collage above for more information on Lilly Aramburo
Have a Website or MySpace page??
PLEASE TELL OTHERS ABOUT US!

Do you have a website and would like to help? You can put the logo below directly on your site and link back to us! To do this, save the logo to your hard drive, then upload it to your server and put this link http://someoneismissing.com behind it! You can even have it open into a new window so you don't lose your own traffic!

If you don't want to host the logo yourself, you can copy the code below, and just insert it anywhere in your website's html and it'll show up! If you use our code, it'll open into a new window also!

logo furnished by
BADDERSTYLE.com

Click once, then right click and copy

Site Search By Missing Person's Name or State They're From

State by State


SomeoneIsMissing.com Inc. enables anyone anywhere the ultimate resource for getting information out to find someone. The Internet. Absolutely 100% FREE. Thank You for coming by and please tell everyone you know about SomeoneIsMissing.com.



Helping Missing People's Families Around The World

To go back to the top of this page, click here!